WATER DAMAGE RIGBY
EAST IDAHO'S HIGHEST RATED RESTORATION COMPANY
Having water damage happen in your home or commercial property is never something that you would plan for, but unfortunately it happens. We know just how frustrating it is when your properties have an emergency occur, and then sustain water damage as a result. Water damage can happen from multiple different causes. Some of the more common causes of water damage include broken pipes, malfunctioning appliances, or even sewage backups. Time is of the essence when dealing with water damage, and we are here to help with that. At Tobin Restoration, it is our goal to provide you the best service with as little disruption to your life, so that you can get back to your life.
There are many components that are important when handling water damage. We will take all of the steps necessary to make sure that it all gets taken care of, so that you do not have to worry about a thing.
Standing water can be a result of many things. Some of the more common occurrences happen due to a malfunctioning appliance, a sewage backup, or even from storms. When water is standing in your house, it is critical that it gets extracted in a timely manner. When water stands for too long, it can very easily become contaminated, and potentially hazardous. Tobin Restoration is experienced, has all of the necessary equipment to extract the water, and is knowledgeable in the science of structural drying, so that they can get all of the water removed from your house in a safe manner.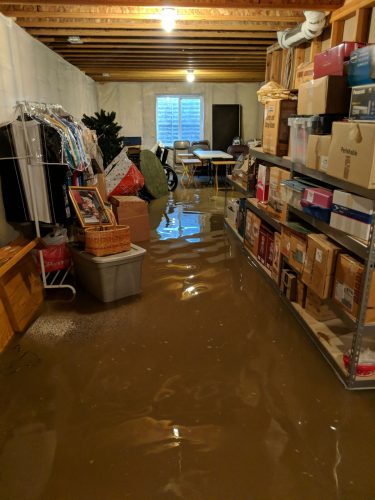 Mold is a serious problem that should be taken care of immediately. Not only does the mold weaken structural integrity, but it may also present health issues to those who come into contact with it. To get rid of and prevent mold from growing, we use an approved antimicrobial treatment that is safe around children and pets. This treatment deodorizes as well as sanitizes the affected areas.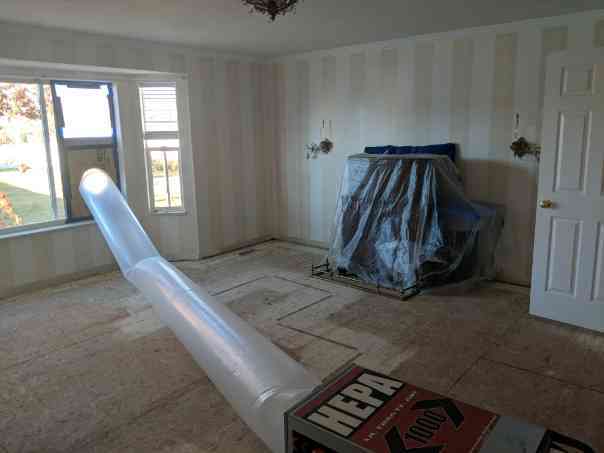 DRYING & DEHUMIDIFICATION
All of our technicians are highly knowledgeable and experienced in their trade. They are IICRC certified and know the science of structural drying. We use industrial sized fans that will take up to 3-5 days to help speed up the evaporation process. We then use moisture detectors and infrared cameras to ensure that all of the water is gone. This will ensure that you will get the best repair possible. The state of the moisture is closely monitored and reported so that there are no repairs made while there is still moisture.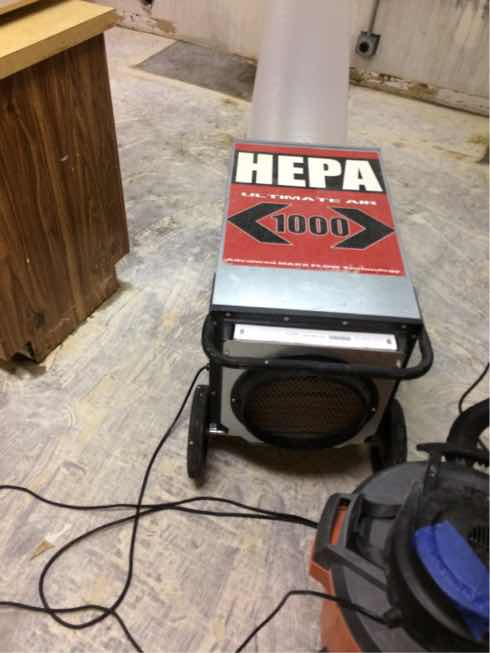 We understand that all of your treasures can be found in your home. In our content cleaning process, we take your belongings very seriously and will only handle them with the utmost care. We will recover as much as we possibly can to make sure that your treasures are preserved. We will evaluate inventory and then take your content to our cleaners where they will sanitize your belongings. Every load is custom washed, depending upon what contents they are. We are here to handle all of the water damage, save your treasures, and then to get the job done in a professional, timely manner so that you can get back to your everyday life.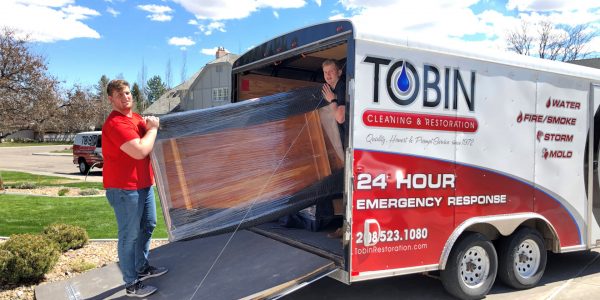 After evaluating the damage and recovering your contents, then the reconstruction stage will begin. Tobin Restoration is a full-service general contractor, so we have the ability and certification to help you reconstruct any part that sustained water damage. Some of the services we offer would include:
Repair of HVAC, plumbing, or electrical systems
Main structural repairs in framing, flooring, windows, doors, etc.
Installation of drywall or paneling
Seamless matching of drywall and paint on walls
Completion of trim work
Our goal is to leave your house or commercial property looking just as good or even better than it did before the damage was sustained.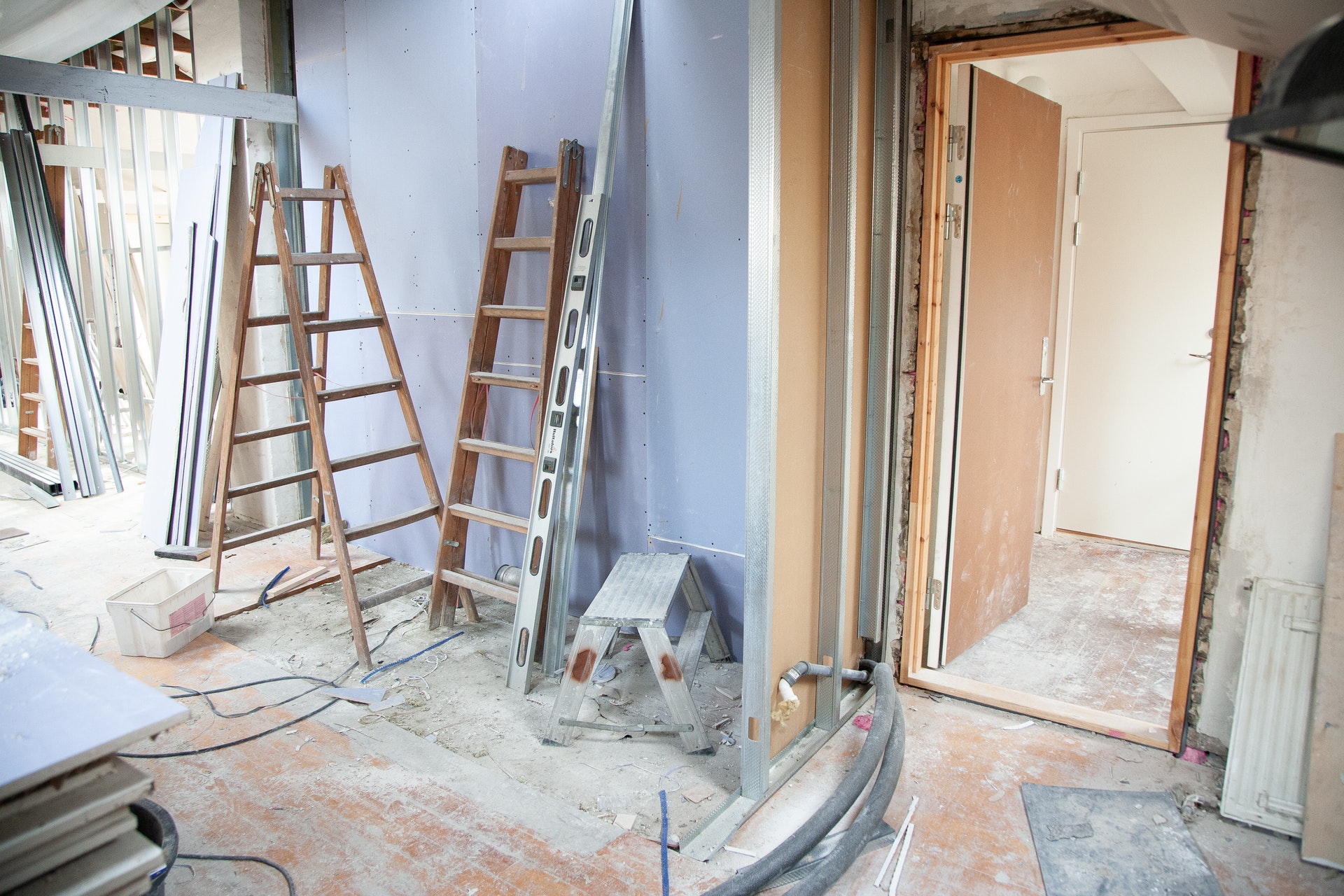 If there is standing water, what will need to be removed?

If you have had any standing water in your house or commercial property, it is very likely that the carpet and padding will need to be replaced. Any other absorbent materials will need to be removed and replaced, such as drywall or insulation, depending on the extent of the damage.

What reconstruction services do you offer?

Tobin Restoration is a full-service general contractor. This means that we can reconstruct anything that has been damaged by water. All of our technicians are IICRC certified and highly experienced so they will leave your home looking just as good, or even better than it was before the damage.

What insurance companies do you work with?

We work with all insurance companies to make sure that the damages are able to be repaired to your home.
WHY CHOOSE TOBIN RESTORATION FOR RIGBY WATER DAMAGE
We are a locally owned company who wants to help you get your life back to normal after an emergency. Our technicians are IICRC certified work on residential or commercial properties. We have 24/7 emergency services and work with all types of insurance. We are family-owned and operated for the last 45 years, so we want you to feel like you are a part of our family. Tobin Restoration is rated #1 as East Idaho's restoration company, and we want to help you!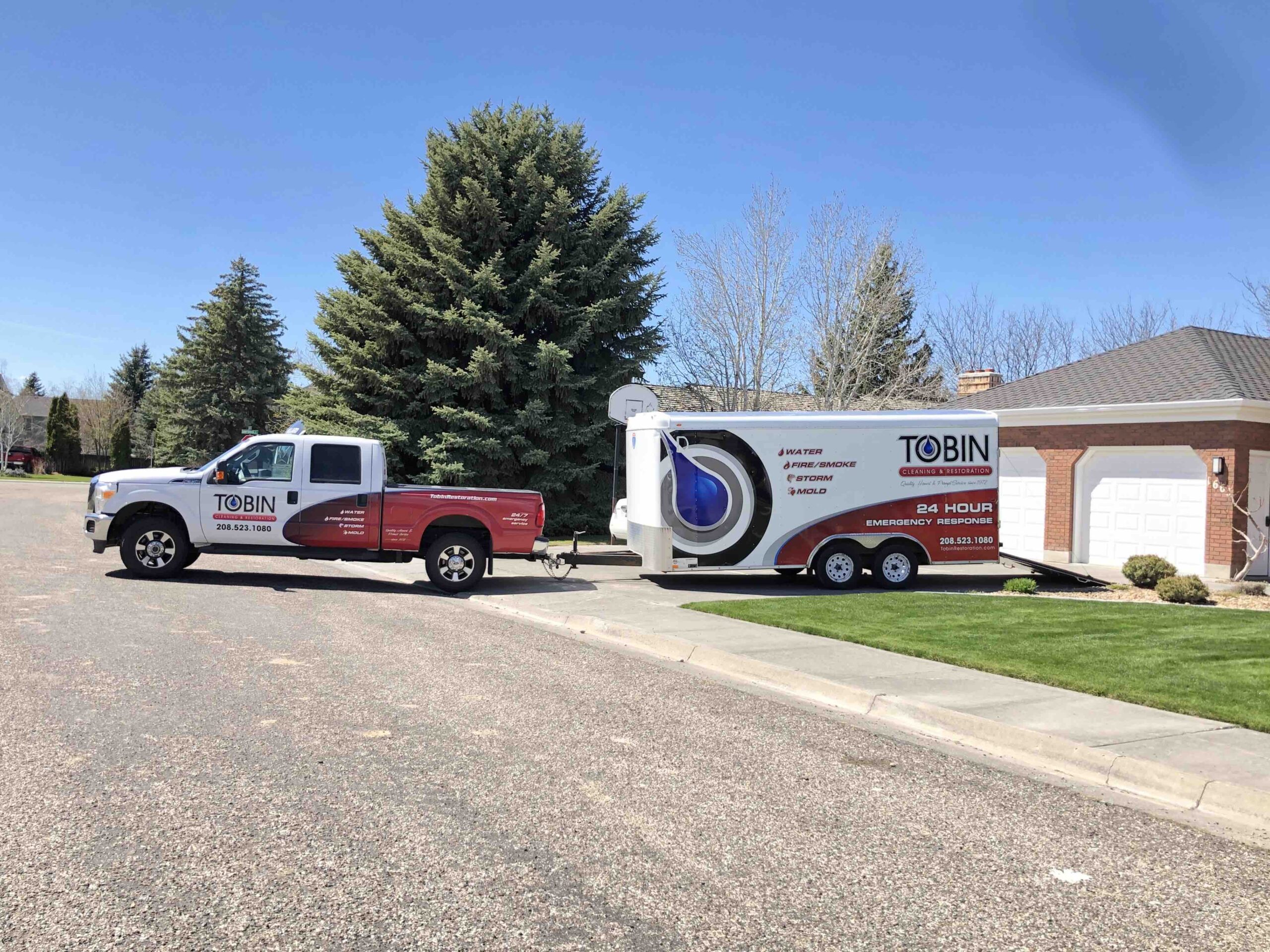 We know that you can never plan for an emergency. That's why we have someone on the line 24/7 to help you when emergencies happen. Someone will be on their way in less than an hour to evaluate the damage and get you the help that you need. Contact ustoday for a free consultation. We look forward to working with you!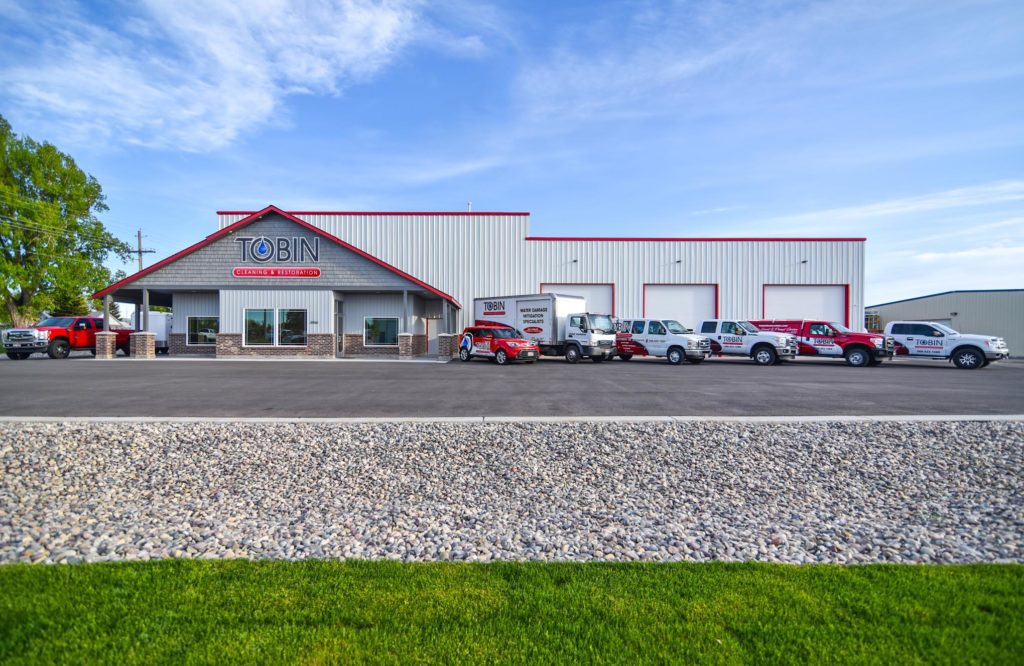 Our cleaning and restoration company is with you from START TO FINISH. If you've experienced damage at your home or business, call us anytime, 24/7 at (208) 523-1080. Haven't decided who to choose? You can contact us at any time for a free consultation and inspection of your damaged areas.
East Idaho's Highest Rated Restoration Company
Tobin Restoration
We have been helping the community restore their homes for years.
Rating:

4.9

/ 5 based on

256

reviews.